Kia of Fargo and our family group of dealerships, Lunde Auto Center and Mazda of Fargo are proud to host our upcoming animal adoption event on Saturday, January 28th, from 10:00 AM to Noon. If you are an animal lover looking to provide a fur baby with a loving forever home, you can meet the dogs and cats from Turtle Mountain Animal Rescue (TMAR) ready for adoption at our special event.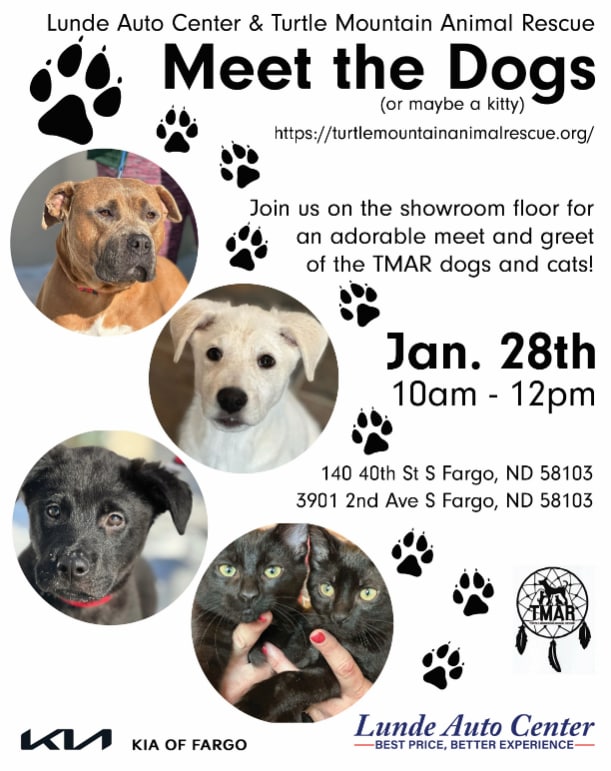 About Turtle Mountain Animal Rescue in Rolla, ND
Turtle Mountain Animal Rescue is our local 501C Non-Profit volunteer organization that works tirelessly to rescue and improve the welfare of stray animals in Rolette County and provide the necessary services to help reduce animal overpopulation. Veterinary access is sparse in our area, so TMAR fills that gap by providing needed services. They also help provide long-term solutions to address the problems of stray animals and improve the quality of life for furry and human friends alike!
Because of their significant impact in the animal rescue world, TMAR was featured in the best-selling animal rights book, Rescue Matters.
How You Can Help
There are many ways you can help TMAR with their incredible work. We hope to see you at our adoption event, and if you have the capacity, you can provide a loving home for a wonderful dog or cat in need. Here are some other ways you can help:
Direct Donations
Foster an Animal
Provide Transportation
Disaster Rescue
Become a Vet Technician at TMAR
Help Fundraise
Become a TMAR Volunteer
Visit Kia of Fargo to Support Turtle Mountain Animal Rescue
We are excited to meet our fellow community members and animal lovers. As pet lovers, TMAR is near and dear to our hearts, and we are proud to help support this important volunteer organization doing such great work around our hometown. We are located at 3901 2nd Ave S in Fargo, ND, one of the three locations where we will be holding the adoption event. Feel free to contact us with any questions regarding this event.